We bring award-winning thought leadership with new approaches to generate sustainable breakthroughs.
We are widely networked across the globe with DEI professionals and academics, and couple this with our deep experience in the field, to focus research on areas to drive the work forward. Some studies are listed below and others are in development. If there is a topic that you'd like to commission a study on, and/or to partner, please contact us.
INCLUSION NUDGES GUIDEBOOK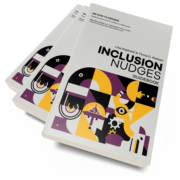 To promote behavioral change and improve decision making we must work with the subconscious. The Inclusion Nudges Guidebook by Lisa Kepinski & Tinna C. Nielsen contains over 100 practical designs to promote behavior, culture, & system change to mitigate bias & create inclusive organisations. Visit the Inclusion Nudges website to learn more about how to purchase the guidebook and the books in the Inclusion Nudges Action Guide Series. All proceeds go to support the Inclusion Nudges global initiative.
A FRESH LOOK AT WOMEN NETWORKS
This ground breaking global survey, by Lisa Kepinski & Veronika Hucke, sheds light on the impact networks have on women's careers, on the quality of members' experience, and how well networks are living up to expectations. We hope that the report, which is based on the responses of over 1700 respondents from more than 55 countries, will spark new dialogue on better ways to balance what organizations and members hope to gain from their networks.
NEWSWEEK D&I REPORT
The need for more diverse and inclusive organizations is broadly accepted today. Seven in ten respondents to a survey conducted for this Newsweek report say the topic is clearly visible on the strategy of their organization. Still, just two in five express that they are on track to achieve their diversity, equity, and inclusion goals, and there is a stuck pattern emerging.  This report by Lisa Kepinski & Veronika Hucke provides insight on what sets successful organizations apart and pragmatic ways to more effectively drive the change for greater diversity and inclusion in your organization.
SETTING GLOBAL GENDER GOALS
Publish date March 2010.  This study by Lisa Kepinski examined practices for setting global gender goals, based upon benchmarking interviews across 36 multinationals on their approach to setting global gender goals/targets/quotas.  Summary of findings was placed within a context of a maturity matrix of DEI work.
Contact: INCLUSION INSTITUTE
Lisa Kepinski is a Co-Founder of the Inclusion Nudges global initiative, and Co-Author of the Inclusion Nudges Guidebook and the Action Guide Series. Learn more